Travels spring 1997, the hamradio aspect
ZS1
Cape Town

April-97
First my XYL, SM0FI with the Cape of Good Hope
in the background.
We meet ZS1AM, Morgan, (left below on both pictures) who lended me a 5/8 vertical magnet mount for 2m and drove us to the clubstation so I was able to operate one evening.
| | | |
| --- | --- | --- |
| ZS1AM and SM0EWM | | ZS1AM and SM0FI |
| | | |
The clubstation, ZS1ESC, had a TH6DXX on a 50 meter tower (!) so much better performance then my IC706 with a wire.
W6, California
april-97
In the end of april I visited KM6VJ, Rose-Marie, and K6BC, Charles, outside San Diego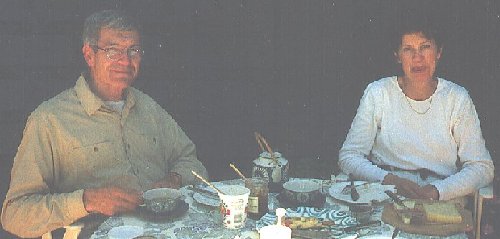 I also got the
chance
to operate the
Swedish Meetball net
from Charles car
on a nearby hilltop.